Condolences to the James Boling Family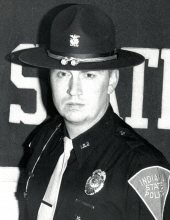 Obituary for James Anthony Boling
JAMES ANTHONY BOLING

Newburgh, IN. – James Anthony Boling, 56, of Newburgh, Indiana passed away on Thursday, January 11, 2018 at his home.
James was born in Evansville, Indiana on July 5, 1961 to James Elwood Boling and Aloma (Chumbley) Spain.
He worked for the Indiana State Police for 25 years before retiring in 2015 as a Master Trooper. James was the top DUI officer for the Evansville Post and was a recipient of the "Top Five" Life Award for having made the most DUI arrests during 2008. He hit his 1000 drunk driving arrest on January 20, 2008.
He is preceded in death by his father.
James is survived by his wife of 34 years, Juliette (Henzman) Boling; children, Ashley and Cory Boling, Abbi (Zach) Patrick; grandchildren, Kaylee and Dane Patrick, Dallas Boling; mother, Aloma Spain; mother-in-law, Beverly Henzman; two sisters, one brother, several nieces and nephews.
Services will be 1 P.M. on Tuesday, January 16, 2018 at Koehler Funeral Home in Boonville, Indiana with Pastor David Sutton officiating. Burial will be at Garrison Chapel Cemetery in Gentryville, Indiana.
Visitation will be from 2 P.M. until 8 P.M. on Monday, January 15, 2018 at the funeral home and from 11 A.M. until the time of service on Tuesday.